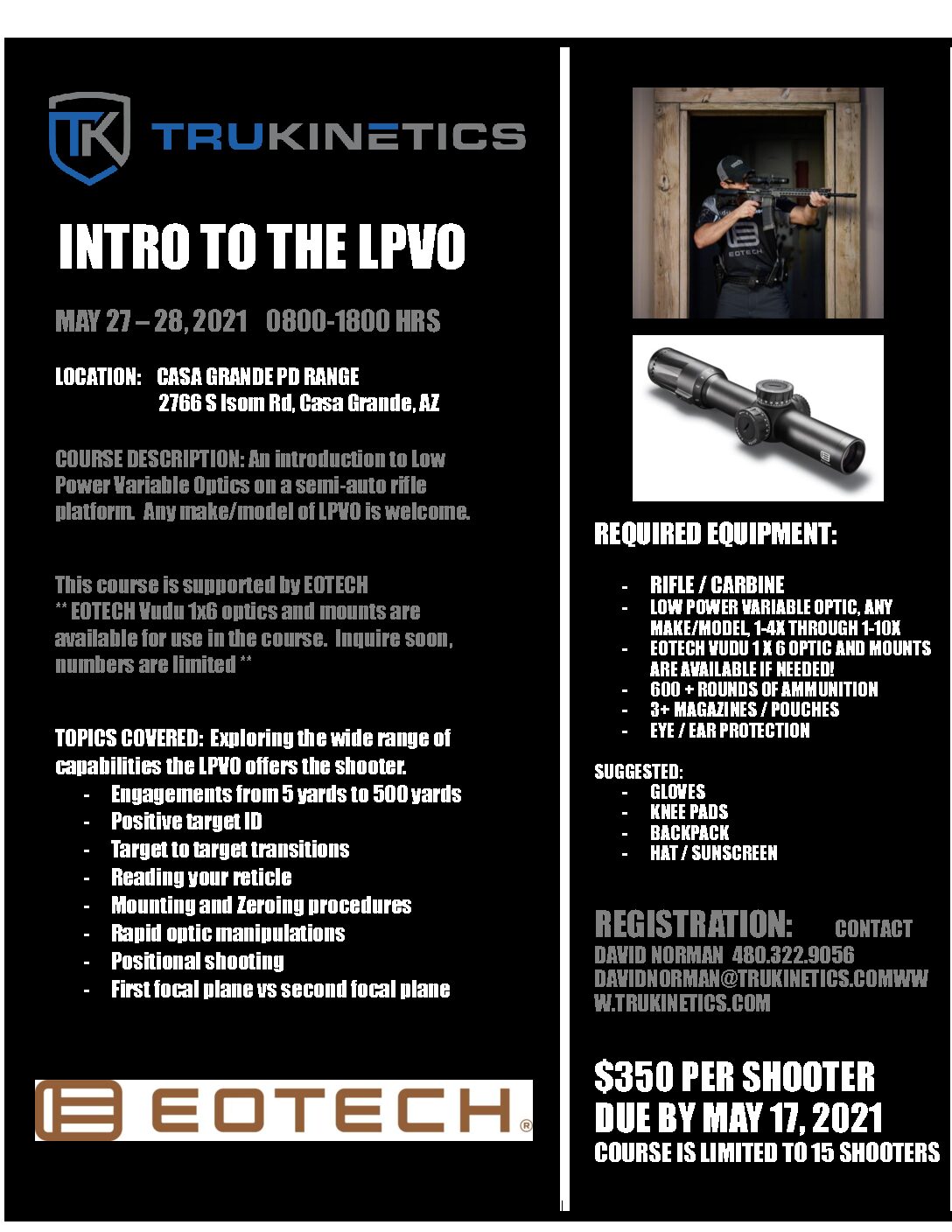 TRAINING & EVENTS
ATOA Sponsored – Intro to the LVPO by Trukinetics
INTRO TO THE LPVO
MAY 27 – 28, 2021 0800-1800 HRS
LOCATION: CASA GRANDE PD RANGE
2766 S Isom Rd, Casa Grande, AZ
COURSE DESCRIPTION: An introduction to Low Power Variable Optics on a semi-auto rifle platform. Any make/model of LPVO is welcome.
This course is supported by EOTECH
** EOTECH Vudu 1×6 optics and mounts are available for use in the course. Inquire soon, numbers are limited **
TOPICS COVERED: Exploring the wide range of capabilities the LPVO offers the shooter.
–  Engagements from 5 yards to 500 yards
–  Positive target ID
–  Target to target transitions
–  Reading your reticle
–  Mounting and Zeroing procedures
–  Rapid optic manipulations
–  Positional shooting
–  First focal plane vs second focal plane
REQUIRED EQUIPMENT:
LOW POWER VARIABLE OPTIC, ANY MAKE/MODEL, 1-4X THROUGH 1-10X
EOTECH VUDU 1 X 6 OPTIC AND MOUNTS ARE AVAILABLE IF NEEDED!
600 + ROUNDS OF AMMUNITION
SUGGESTED:
– GLOVES – KNEE PADS
– BACKPACK
– HAT / SUNSCREEN
REGISTRATION:
DAVID NORMAN 480.322.9056
DAVIDNORMAN@TRUKINETICS.COM
WWW.TRUKINETICS.COM $350 PER SHOOTER