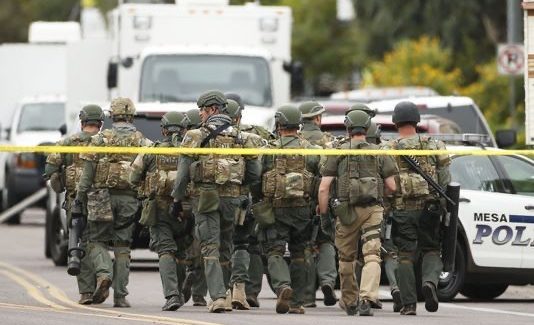 ACTIVE SHOOTER SEMINAR
Krav Maga is the official hand-to-hand combat system of the Israeli Defense Forces. It's also the preferred system for U.S. Military. Since 2001, REACT Defense Systems has been the original and only Krav Maga Worldwide Regional Training Center in the state of Arizona. Krav Maga is not a traditional martial art. No rehearsed forms. No rituals. Based on simple principles and instinctive movements, this reality-based system is designed to teach how to function and dominate an adversary during the stress and shock of a sudden, violent encounter.
Course Description
With the current state of the world I think we can all agree that it is not a matter of "IF" it's going to happen but "WHEN". As our local last line of defense it is critical that we have the ability to encounter, adapt, and overcome any possible threat to our community. This course will cover concepts and techniques of how to deal with active shooters when up close and personal and our other higher levels of force are either not accessible, have been exhausted, or rendered inoperable.
When January 29th, 2016 from 0900 to 1200
Where Phoenix Center
2620 E. Rose Garden Ln.
Suite 3
Phoenix AZ 85050
Cost $99
Registration
Class is restricted to Law Enforcement Only
Contact KMcontact@msn.com for more information
Phone: 602.485.5728